Event Details
May 2018 Monthly Meeting
Date:
May 16, 2018, 11:30am – 1:00pm
Organizer:
Location:

Hidden Pointe Hall
1062 Nickerson Ave
Benton Harbor, MI 49022
(269) 926-1358

http://wmich.edu/southwest/contact/directions.php


Price:

$15 for Members, $20 for Guests

Event Type:
iCal link
The Topic for May is...
THRIVE!
Our Speaker will be Julie Carr
Julie Carr is the Queen of Purpose, helping you to identify and live within your Life's "WHY". As a recovering career coach, Julie has worked with over 2,000 clients who were stuck deep in the trenches of transition. She is the Author of Stop Surviving and Start Thriving! Learn how to kick fear and doubt to the curb, make friends with uncertainty and reclaim your destiny. Julie has served as an Independent Consultant and Trainer for Michigan Works! for over 15 years, is an Adjunct Professor in the speech and business departments for two colleges, as well as the founder of Julie Carr & Associates, a training company that encourages and inspires purpose, passion and potential through fun and engaging custom-made keynotes and trainings that equip individuals to make a difference and impact in the world by doing their best work. If you would like to learn more you can visit her website at www.coachjuliecarr.com or contact her at Julie@coachjuliecarr.com.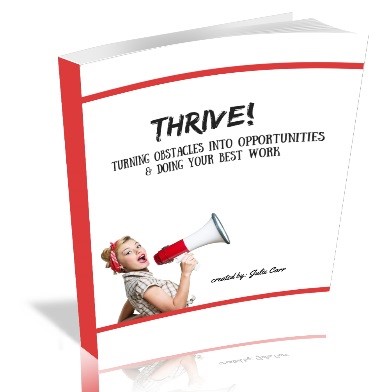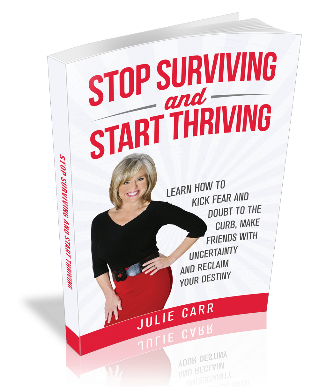 THRIVE! Turning Obstacles into Opportunities & Doing Your Best Work
Did you know you have been created on purpose and for a purpose? Too many go our entire lives not really understanding the impact we are created to make. Settling for a life of what Henry David Thoreau refers to as, 'quiet desperation'. Are you living your life to the absolute fullest? Can you say with 100% certainty you are doing what you are here to do, to become and to accomplish? The late Dr. Myles Munroe tells us that the wealthiest place in the world is the graveyard. It is the graveyard where our dreams, deepest desires, and our fullest potential go to be buried. Are you fully grasping what that value is and are you THRIVING in all areas of your life? Or, are you simply surviving each day?
In this session Julie will not only inspire you with her story of personal triumph, but you will leave equipped to turn any obstacle into an opportunity to step into your fullest potential.
You will take away the following:
·Identify the obstacles that are keeping you from stepping into your greatest potential.
·Discover the WHY behind why you can't seem to move forward in an area of your life and how to create success strategies.
·Learn that the way you think about a situation ultimately will determine the outcome.
·Learn the science behind your fears and negative thinking and how you can literally "rewire" your thinking.
·Put into action Julie's ABC Formula ™ for turning any obstacle (yes! ANY obstacle) into your greatest opportunity